.:: PURCHASEWARE ::.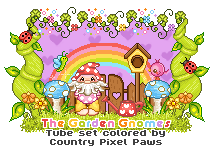 The garden gnomes have arrived to Country Pixel Paws!
In this cute and colorful tube set you are able to create your very own unique gnome garden with tons of different flowers and other props.
Recently I have been inspired to create spring & garden graphics. Spring will soon be here and I'm eager to get out in the yard and work in my flower and veggie gardens.
I went on a hunt through all my pixel memberships in search of gnome pixels, and to my surprise I found very little :( So from there I set out to create my own gnome garden tube pack and I'm sharing it with all of you. A big thanks goes to Katja (Berliner Barin) for creating such a cute doll base that I used to create a gnome.
Credits to the other line creators are in the file. Gnome clothes, beards, back drops and the rainbow are all drawn and colored 100% by me.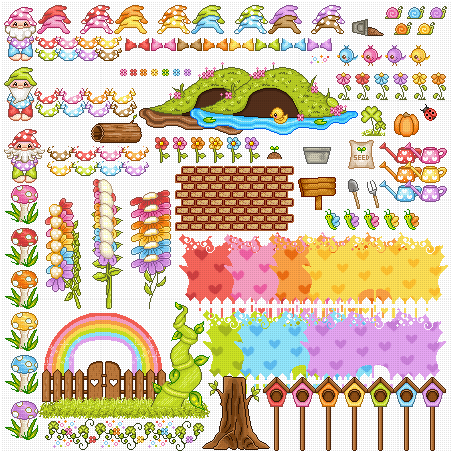 ~END USE ONLY~
Sold Unlimited - these will not be in my members area
PRICE: $6.50
TO ORDER:
Please send me an email with the following infos...
Name:
Paypal address:
URL:
Email for delivery:
thanks for looking
---
Shayna's Itty Bitty Crew is back and this time in a fairy tale theme!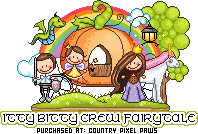 Your purchase also includes 6 bonus sigtags (shown in the animated sample) that will be added to my gallery.
You may personalize them, or I can personalize them for you when you purchase!
Price: $10.00
~end use only~
Limited to only 25 people!
Sets Remaining: 17
Credits to line creators is on the file
and a few even drawn by myself!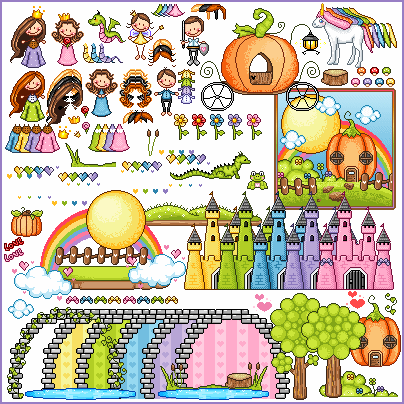 TO ORDER:
Please send me an email with the following infos...
Name:
Paypal address:
URL:
Name for logo:
Email for delivery:
---
- Previously sold sets -